Intimacy
Oil on Canvas by Suren Voskanyan
Regular price
$18,900.00 CAD
Regular price
Call for Price
$18,900.00 CAD
Unit price
per
Sale
Sold out
Call Us | eMail Us | Live Chat
Ships Fast + Easy Returns
Share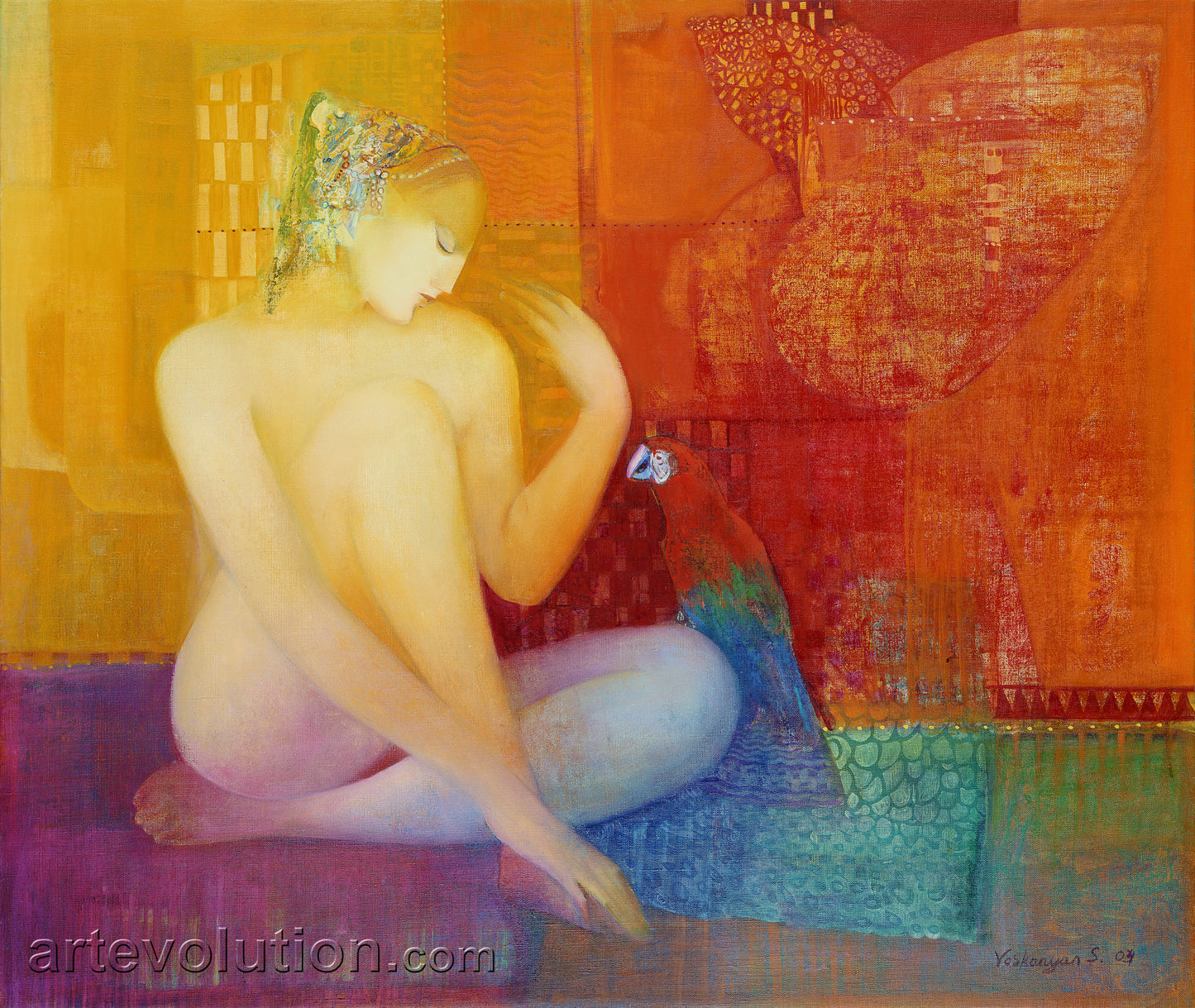 Collapsible content
About this Artwork

The vibrant pigments of this piece are completed by the exotic beauty of a parrot. The natural grace and quiet posture of this nude bespeak a tranquility that is in contrast to the dynamically coloured background. The flawless complexion of this figure and the manner in which her form fuses with the texture and colour of the background are hallmarks of Voskanyan's unique style.
Giclée + Other Art Terms

Giclée: From the French verb gicler, meaning, "to spray." It is pronounced "zhee-clay". The giclée process uses an incredibly accurate computer-controlled jet to apply ink to watercolor paper, canvas or etching paper. These unique jets are able to vary the width of the ink stream to as small as 1/100th the width of human hair. Giclées have a higher resolution than offset lithographs and the dynamic color range is greater than serigraph. Giclée reproductions are used to produce museum quality, fine art reproductions. In the art world it is generally regarded as the highest quality reproduction available.
Suren Voskanyan
Bio

Biography

1960 Born in Yerevan, Armenia.

1982 Graduated from the P. Terlemezian Art College, Yerevan.

1983 Studied the technique and style of masters of impressionism and post-impressionism in Hermitage Museum, Leningrad.

1993 Graduated from Yerevan Fine Arts Institute.

1993 Became a Professor and Art Instructor at the Design University of Yerevan.

1999 Joined the Realistic Artists' Union of Armenia


Exhibitions

2020 Dali at d'Arenberg Cube, McLane Valley, Australia. Exhibition runs until 31 May, 2020.

2019 Dali Sculptures and Graphics, Billich Gallery 106 George Street, "The Rocks" Sydney.

2018 Red Dot - Spectrum Miami, FL, USA.

2018 "DALI Universe" Galerie 222, Princesse Caroline Street, Monaco.

2017 Art Stage Singapore, Marina Bay Sands Convention Center.

2017 Intermarc ECCS Educational Center, Beirut.

2016 Twenty Years and Beyond, Jeweler's Souks, Solidere Era, Beirut.

2015 Rebirth of a nation, Beirut Exhibition Center.

2014 Affordable Art Fair, F1 Pit Building, Singapore.

2014 Maîtres Distilleurs d'Art, Château de Châtenay, Cognac.

2013 International Art Expo New York, Pier 92.

2010 to 2014 Art Monaco, Salon d'Art Contemporain, Grimaldi Forum, Monaco.

2009 12th Beijing International Art Expo, China World Trade Center.

2008 Expo Art Montréal, Place Bonaventure.

2008 International Art Expo New York, Jacob Javits Convention Center.

2007 Arteclasica 2007, Meeting Cultures, Buenos Aires.

2006 International Art Expo New York, Jacob Javits Convention Center.

2006 Expo Art Montréal, Place Bonaventure.

2004 Art Philadelphia, Pennsylvania Convention Center.

2004 Artists of the World Art Gallery, Calgary, Canada.

2004 WCAF Show, Hilton Convention Center, Las Vegas.

2003 International Art Expo New York, Jacob Javits Convention Center.

 
Explore Our Suren Voskanyan Collection
Regular price

From $525.00 CAD

Regular price

Call for Price

From $525.00 CAD

Unit price

per

Regular price

$18,900.00 CAD

Regular price

Call for Price

$18,900.00 CAD

Unit price

per

Regular price

From $486.00 CAD

Regular price

Call for Price

From $486.00 CAD

Unit price

per