Dawn 2001
Charcoal on Paper by Ricardo Valbuena
CALL FOR PRICE
Call Us | eMail Us | Live Chat
Ships Fast + Easy Returns
Share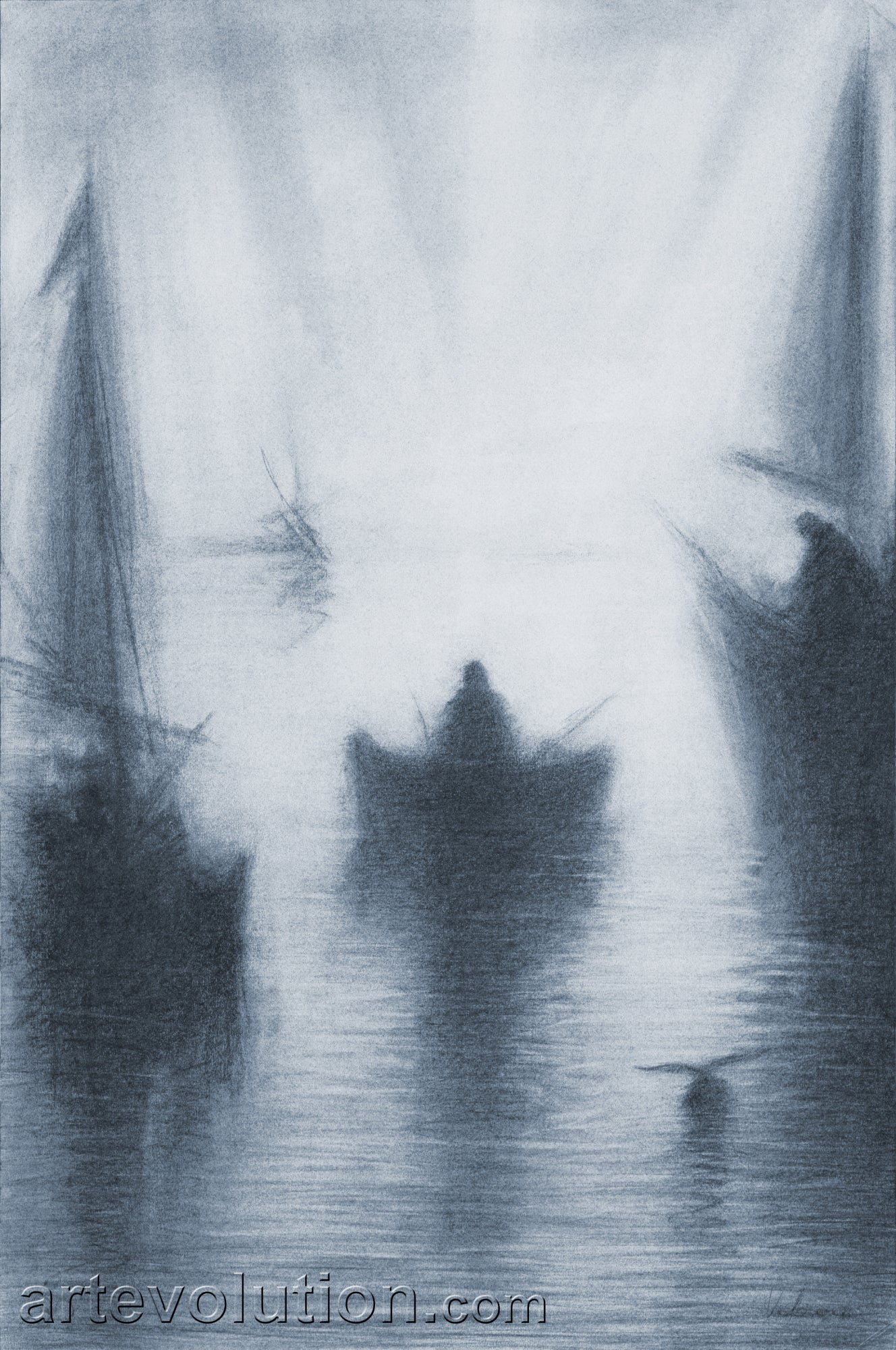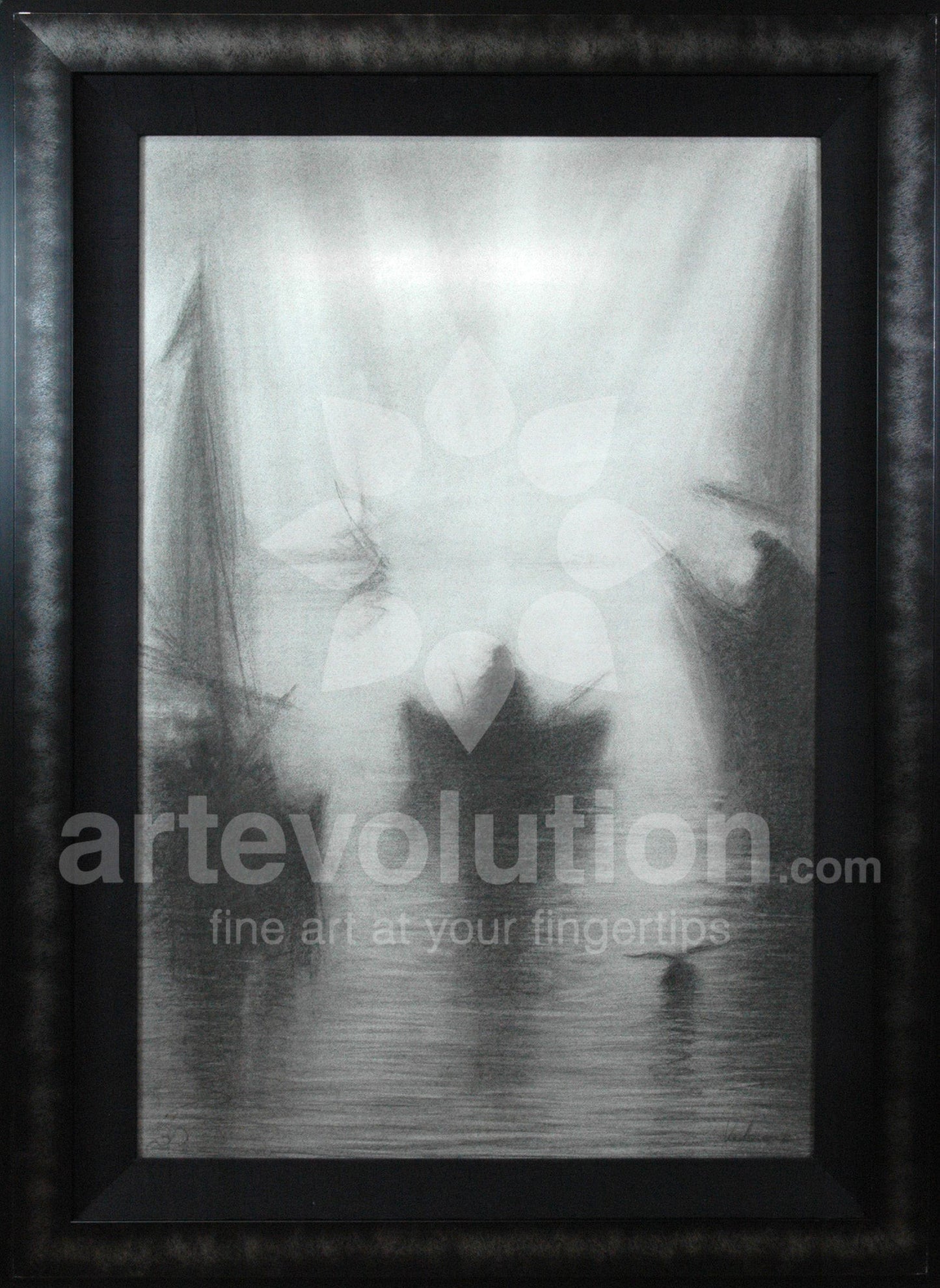 Collapsible content
About This Artwork

This original monochromatic work is a masterpiece of composition. The smaller central boat is balanced on each side, above and below by other boats, fishing lures and the shore. A skilfully rendered piece, this is a worthy addition to the collection of any discriminating investor.
Giclée + Other Art Terms

Giclée: From the French verb gicler, meaning, "to spray." It is pronounced "zhee-clay". The giclée process uses an incredibly accurate computer-controlled jet to apply ink to watercolor paper, canvas or etching paper. These unique jets are able to vary the width of the ink stream to as small as 1/100th the width of human hair. Giclées have a higher resolution than offset lithographs and the dynamic color range is greater than serigraph. Giclée reproductions are used to produce museum quality, fine art reproductions. In the art world it is generally regarded as the highest quality reproduction available.
Ricardo Valbuena
Bio

"Change and constant motion have been an intrinsic part of my life, work, and inner most nature. Each new painting is a journey into the unknown. No matter how many times I have painted a particular subject, I never know what will come of this new piece I'm working on, whether it will be lost or transformed into something that doesn't remotely resemble what I originally set out to do."

In the beginning of Ricardo Valbuena's creative journey, he was fascinated exclusively by the human figure, and drawing was the foundation of his artistic vision. Because of this initial affinity for the medium of drawing, especially charcoal and pastel, that is always the method he uses to approach any new concept or subject in his work.

Ricardo was born in Bogota, Colombia in 1960. However, it was in London, where he went to live in 1982, that his early work achieved its maturity through the direct study of the old masters and constant practice with life drawing.

In the London underground he found a fascinating subject matter in the mass of humanity traveling there. It offered him an infinite number of models and potential compositions that said a lot about the modern world and the acute loneliness, vulnerability and isolation of humans in a big city.

At this time he was producing paintings of wounded figures injured by war or natural disasters, figures wearing gas masks, the series of horses and riders came from the news and newspapers, or of his actual life experience in Colombia.

At the end of the 1980's Ricardo became disillusioned with life in the big city and his own somber urban subject matter. One day he spontaneously slashed with red paint all the paintings in his studio and left the city.

He yearned for wild nature and open spaces. This became a spiritual necessity as he searched for a deeper understanding of himself and his connection to the natural world and the cosmos. He temporarily left painting and traveled for six months to remote parts of South America and Colombia, where, after amazing encounters with native shamans in the Amazon basin, and discovering yoga, he settled in the countryside and began painting landscapes again.

The search to capture the light, color and depth in landscapes and the magic in nature was parallel with his search to find those same elements within. Ricardo was compelled to feel, see and paint the inner landscape, and the newfound peace and harmony he was experiencing out in nature.

After two years painting in Colombia he went to India in 1992, where he remained for two years studying and teaching yoga. Ricardo spent the two years following his time in India painting in the Atlas Mountains of Morocco continuing his work with landscape. From Morocco he moved, in 1997, to Ireland where he had the opportunity to spend long periods of time near the sea. His journey continued to the United States and he is currently based in the San Francisco Bay area of California.

An important aspect of Ricardo's work with color has been his ability to paint pictures in predominantly one of the colors of the spectrum so that he can fully experience the vibration and energy of each of the colors individually. The representation of the different elements, earth, water, fire, and air, has also been part of this process.

Additionally, the surface of his paintings has become thicker and richly textured over the years. He works with both palette knives and brushes, building layer upon layer of paint to create a surface that invites a tactile response. This is evident with some of the paintings of the sea and the horses, and especially with those of the Redwood trees, in which the thickly applied paint resembles the bark of the tree itself.

Movement and capturing it has always been an important objective in Ricardo's work, both actual physical movement and the inner movement of things or people, and conveying this movement through the animated lines and brushstrokes on his paintings or drawings.

About the process of creation, Ricardo sums up his approach this way: "The beauty and terror of the creative process is that it is always a gamble and will forever remain a great mystery like life itself."

Selected Recent Exhibitions:
1984 Colombian Artists Living in Europe, Leighton House, London
1985 Colombian Art in the World; Museum of Modern Art, Bogota
1986 One man show, Quinton Green, London
1987 Salon de la jeune peinture, Grand Palais, Paris
1989 15 New Expressions, Diners Gallery, Bogota
1990 Two Latin American Painters, Long & Ryle, London
1992 One man show, Galeria Alfred Wild, Bogota
1992 One man show, Long & Ryle, London
1996 One man show, Long & Ryle, London
1996-7 Mixed Show, Roy Miles Gallery, London
1998 One man show, Origin Gallery, London
1999 'Picture Kerry' Exhibition, National Museum, Dublin