Cultural, Rebirth
Oil on Belgium Linen Canvas by Charles Billich
Regular price
$75,000.00 CAD
Regular price
Call for Price
$75,000.00 CAD
Unit price
per
Sale
Sold out
Call Us | eMail Us | Live Chat
Ships Fast + Easy Returns
Share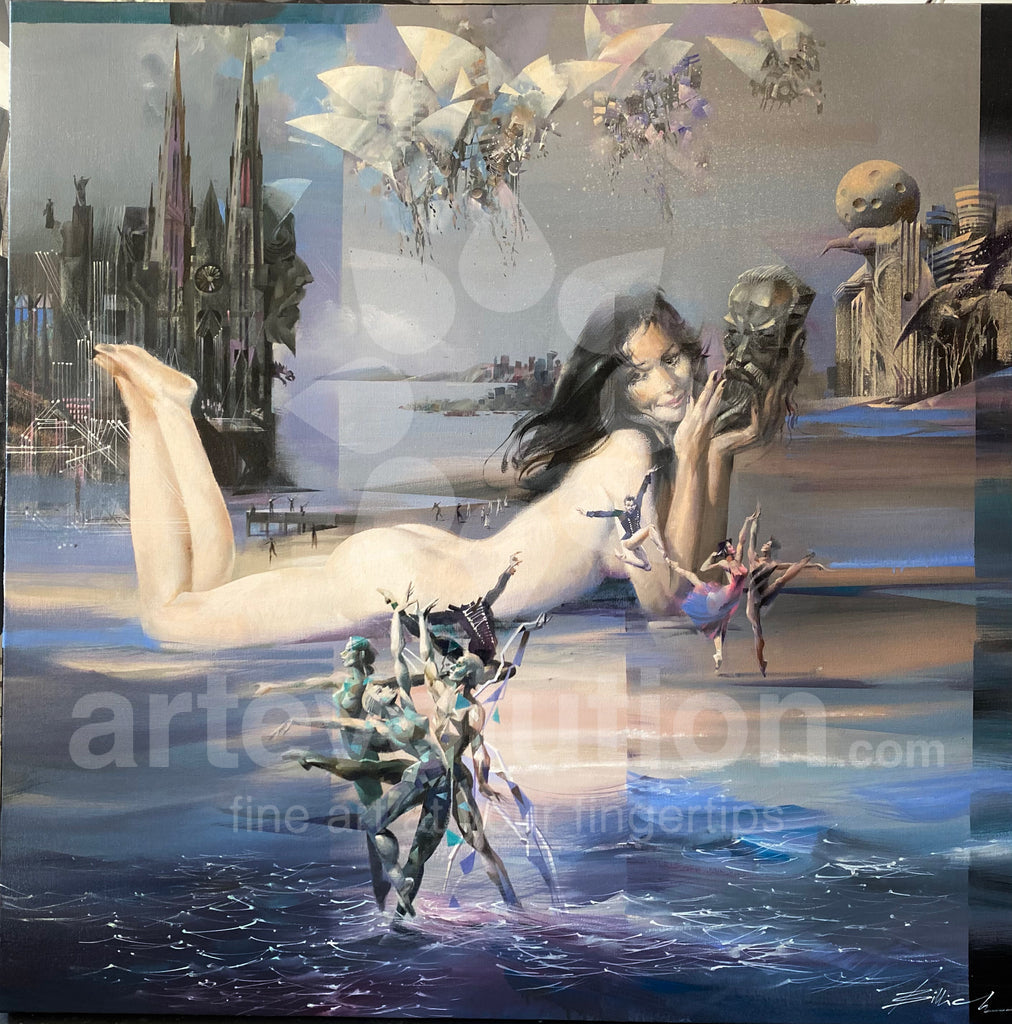 Collapsible content
About this Artwork

Now that COVID restrictions have eased in Australia, we can really enjoy entertaining at home again. After a night out at The Billich Champagne Bar this room is perfect for a nightcap or to perhaps to continue the party? Featuring Billich's artwork "Cultural Rebirth" the high ceilings and neutral colours with a splash of turquoise encourages intimate conversations and inspiring ideas while maintaining a relaxed energy.
Giclée + Other Art Terms

Giclée: From the French verb gicler, meaning, "to spray." It is pronounced "zhee-clay". The giclée process uses an incredibly accurate computer-controlled jet to apply ink to watercolor paper, canvas or etching paper. These unique jets are able to vary the width of the ink stream to as small as 1/100th the width of human hair. Giclées have a higher resolution than offset lithographs and the dynamic color range is greater than serigraph. Giclée reproductions are used to produce museum quality, fine art reproductions. In the art world it is generally regarded as the highest quality reproduction available.
Charles Billich
Bio

It can certainly be said that Charles Billich is one of the most important living artists in the world and at 88 years of age he is also one of the most credentialed artists of all time. Indeed, his extensive list of awards and achievements are almost beyond comprehension.  

To have the privilege of watching him at his easel is to witness a magician with a paintbrush. Effortlessly, imagery appears as if by divine intervention. Yet, there is always something deliberately left out, and it's the viewer who completes the image. If accolades were the only measure of success, Billich surpassed that benchmark long ago. In an art world overflowing with self-interest, misguided choices and hype, the elements of relevance, authenticity, and uniqueness, which the artworks of Billich represent, remain the rarest of qualities.  

In fact, these are some of the most important considerations for the thinking collector. Billich paintings grace the walls of some of the most hallowed locations around the world, and his collectors are among the most influential people of our era. As the pages of history continue to turn, it's the true masters of the human condition that transcend space and time. They are historical entries that celebrate a relentless commitment to the creation of artworks that inspire and endure. Charles Billich is such an artist: he is as charismatic as he is talented; Whether you are acquiring for investment or the sheer joy of owning a modern master, few artists have accomplished so much in one lifetime. 

Christopher Talbot – President, Art Evolution Inc.

 

Billich Collections

The Vatican Collection, Rome

United Nations Headquarters, Geneva

The White House Collection, Washington D.C.

Ferrari Collection, Milan

Shaolin Temple, China

International Red Cross Museum, Geneva

International Olympic Museum, Lausanne

Museum of Modern Art Mobile, Alabama

Art Bank Commonwealth of Australia

City of Düsseldorf, Germany

Brisbane City Hall Art Gallery

The Parliament of Victoria

Australian Embassy to Germany

Australian Embassy to Croatia

Hall of Congress, Washington D.C., Queensland Art Gallery

U.S. Sports Academy

Royal Collection, Kuala Lumpur

City of Melbourne

Government Utah, USA

Government East Timor

Central Queensland University, Rockhampton

The City of Sydney

Embassy of Croatia, Canberra

Australian Embassy to Japan

City of Kanagawa, Japan

USA Australian Olympic Committee Headquarters, Sydney

New York State Govt. Port Authority

The Royal Collection of Thailand

Parliament House, Dili, East Timor

Exhibition Building, Melbourne

Royal Australian Air Force

Rockhampton Gallery, Qld

The City of Hakodate, Japan

The City of Osaka, Japan

State theatre Sydney

The Parliament of Japan

City of Rijeka, Croatia

NSW Government, Australia

Beijing Olympic Organizing Committee

City Of Qingdao China

  

Billich appointments

Sports Artist of the year United States Sports Academy 2014

Official Coronation artist by Royal Appointment by his Majesty King George V of Tonga

Fifa South Africa 2010

Monaco Eco Art Foundation 2009

Fine Art Sports Academy Art Committee 2009

Artist, Florence Biennale 2009

Artist, Monaco Eco Art Parade 2009

Artist, China White Cartier Polo Tournament 2009, Guards Polo Club, UK

Artist, St. Tropez Open Du Soleil Polo Tournament 2009, France

Appointed, by Royal Command, Artist in Residence for the Coronation of His Majesty King George Tupou V Tonga 2008

St Moritz Art Masters, Switzerland 2008

Artist for Australian Olympic Team, Beijing 2008

Artist for US Olympic Team, Beijing 2008

Artist Carnivale Christi 2004/2005

Artistic Patron Sydney Polo Club 2004

Artist for Australian Olympic Team, Athens 2004

Artist for US Olympic Team, Athens 2004

Artist for Australia Day Regatta 2001–2006

Trustee United States Sports Academy

Patron NSW Chin Woo Athletics Association

Artist Sydney Greek Festival 2004

Artist for Rugby World Cup, 2003

Artist for Timor-Leste Independence Day, 2002

Artist for United States Olympic Committee, 2002/2003

Designated Artist 2001 Centenary Nobel Peace Prize

Sports Artist of the Year, 2000

Artist for the Australian and US Olympic Teams, Sydney 2000

Artist Beijing Olympic Bid, 1999–2000

Artist for the Australian and US Olympic Teams, Atlanta 1996

Artist 1996 Formula 1 Grand Prix, Melbourne, 1996

Commemorative Centenary Painting, Australian Football League, 1996

 

Billich Awards

Winner, Florence Biennale 2009, Lorenzo Il Magnifico Painting Prize

77th Honorary Shaolin Monk, Henan, China 2004

Order of the Eagle Exemplar, USA 2000

Olympic Gold Order from the French Ministry for Sport 2000

Milan & Spoleto Awards, Italy 1989

Victorian Heritage & Cultural Award 1988

United States Sports Academy 1996

Centennial Olympic City, USA 1996

Honorary Citizen of Atlanta 1996

Order of the Eagle Exemplar USA 2000

Doctor Philosophy Honoris Causa-United States Sports Academy

Prints award/Gold Medal 1987/88

Spoleto Award, Italy, 1987


Billich Published Resources

Who's Who in Australia 2009

USA Sports Academy Publication 2000

Billich Art Armanae, Grafiche Nicolini Editore, Italy 2000

2000 Outstanding Artists and Designers of the 20th Century, UK

Artists & Galleries of Australia

Billich 1971-1991 (Editalia)

Encyclopedia of Australian Art

Australian Impressionist & Realist Artists

Who's Who of Australian Visual Artists
Photos

Charles Billich and Art Evolution President Christopher Talbot

Charles Billich and Art Evolution President Christopher Talbot