Filette au Bateau
Lithograph by Pablo Picasso
All limited editions come with a signed certificate of authenticity.
Regular price
$8,000.00 CAD
Regular price
Call for Price
$8,000.00 CAD
Unit price
per
Sale
Sold out
Call Us | eMail Us | Live Chat
Ships Fast + Easy Returns
Share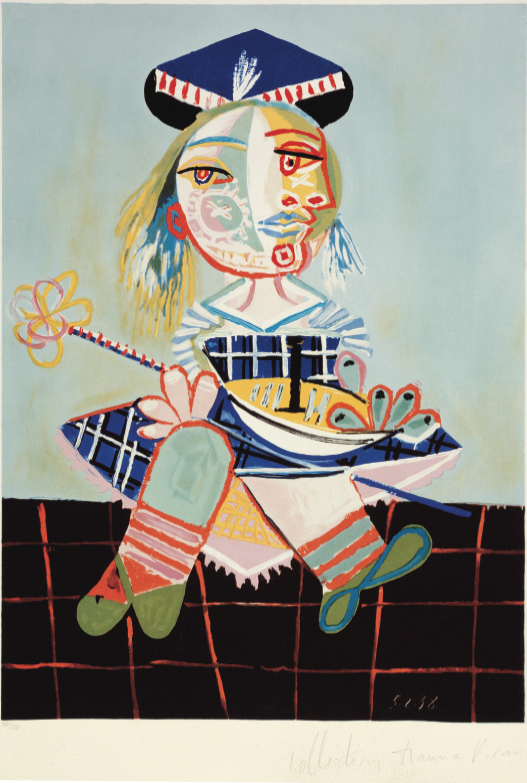 Collapsible content
About this Artwork

By virtue of an agreement with Marina Picasso, signed c. 1980 each of the 500 limited edition lithographs is numbered and hand signed by Marina Picasso, and each is stamped with the embossed seal of the Estate and the Chromist.
Picasso
Bio

Pablo Picasso is probably the most important figure of the 20th century, in terms of art, and art movements that occurred over this period. Before the age of 50, the Spanish-born artist had become the most well-known name in modern art, with the most distinct style and eye for artistic creation. There had been no other artists, prior to Picasso, who had such an impact on the art world, or had a mass following of fans and critics alike, as he did.

Pablo Picasso was born in Spain in 1881, and was raised there before going on to spend most of his adult life working as an artist in France. Throughout the long course of his career, he created more than 20,000 paintings, drawings, sculptures, ceramics and other items such as costumes and theater sets. He is universally renowned as one of the most influential and celebrated artists of the twentieth century.

As an artist and an innovator, he is responsible for co-founding the entire Cubist movement alongside Georges Braque. Cubism was an avant-garde art movement that changed forever the face of European painting and sculpture while simultaneously affecting contemporary architecture, music and literature.

Every act of creation is first of all an act of destruction." - Pablo Picasso

Picasso's Early Life

Picasso was born in Malaga, Spain, to Don Jose Ruiz y Blasco and Maria Picasso y Lopez. His baptized name is much longer than Pablo Picasso, and in traditional Andalusian custom honored several saints and relatives. His father was a painter and a professor of art, and was impressed by his son's drawing from an early age. His mother stated at one time that his first words were to ask for a pencil. At the age of seven Picasso begin receiving formal training from his father. Because of his traditional academic training, Ruiz believed training consisted of copying masterworks and drawing the human form from live figure-models and plaster casts.

In 1891 at ten years old, the family moved to A Coruna where the School of Fine Arts hired Ruiz to be a professor. They spent four years there where Ruiz felt his son surpassed him as an artist at the age of 13 and reportedly vowed to give up painting. Though paintings by Ruiz still seem to have been generated years later, Picasso's father certainly felt humbled by his son's natural skill and technique.

Picasso and his family were horrified when his seven-year-old sister died of diphtheria in 1895. They relocated to Barcelona and Ruiz began working at its School of Fine Arts. He persuaded officials there to let his son take an entrance exam for an advanced class and Picasso was admitted at the age of just 13. At the age of 16 he was sent to Spain's foremost art school in Madrid, the Royal Academy of San Fernando. Picasso disliked the formal instructions and decided to stop attending his classes soon after he arrived. He filled his days inside Madrid's Prado, which displayed paintings such as Francisco Goya and El Greco.

The body of work Picasso created throughout his lifetime is enormous and spans from his early childhood years until his death, creating a more comprehensive record of his development than perhaps any other artist. When examining the records of his early work there is said to be a shift where the child-like quality of his drawings vanished, therefore being the official beginning of his career. That date is said to be 1894, when Picasso was just 13. At the age of 14, he painted Portrait of Aunt Pepa, a striking depiction that has been referred to as one of the best portraits in Spanish history. And at age 16, Picasso created his award-winning Science and Charity.

His technique for realism, so ingrained by his father and his childhood studies, evolved with his introduction to symbolist influences. It led Picasso to develop his own take on modernism, and then to make his first trip to Paris, France. The poet Max Jacob, a Parisian friend, taught Picasso French. They shared an apartment where they experienced the true meaning of what it meant to be a "starving artist." They were cold and in poverty, burning their own work to keep the apartment warm.

Picasso would predominately spend his working adult life in France. His work has been divided roughly by periods of time in which he would fully develop complex themes and feelings to create a unifying body of work.

The Blue Period (1901-1904)

The somber period within which Picasso both personally experienced poverty and its effect on society right around him is characterized by paintings essentially monochromatic paintings in shades of blue and blue-green, only occasionally warmed by other colors. Picasso's works during this period depict malnutrition, prostitution, and the posthumous portraits of friend Carlos Casagemas after his suicide, culminating in the gloomy allegorical painting La Vie. La Vie (1903) portrayed his friend's inner torment in the face of a lover he tried to murder.

The Rose Period (1904-1906)

Fitting to the name, once Picasso seemed to find some small measure of success and overcame some of his depression, he had a more cheery period featuring orange and pink hues and the playful worlds of circus people and harlequins. Picasso met a bohemian artist named Fernande Olivier who became his lover. She subsequently appeared in many of these more optimistic paintings.

American art collectors Leo and Gertrude Stein became great fans of Picasso. They not only became his chief patrons, but Gertrude was also pictured in his Portrait of Gertrude Stein, one of his most famous portraits.

Art is a lie that makes us realize the truth." - Pablo Picasso

Cubism (1909-1919)

It was a confluence of influences - from Paul Cézanne and Vincent van Gogh, to archaic and tribal art - that encouraged Picasso to lend his figures more weight and structure around 1907. And they ultimately set him on the path toward Cubism, in which he deconstructed the conventions of perspective that had dominated Renaissance art. During this period, the style Georges Braque and Picasso developed used mainly neutral colors and was based on they're "taking apart" objects and "analyzing them" in terms of their shapes. Cubism, especially the second form, known as Synthetic Cubism, played a great role in the development of the western art world. Works of this phase emphasize the combination, or synthesis, of forms in the picture. color is extremely important in the objects' shapes because they become larger and more decorative. Non-painted objects such as newspapers or tobacco wrappers, are frequently pasted on the canvas in combination with painted areas - the incorporation of a wide variety of extraneous materials is particularly associated with Picasso's novel technique of collage. This collage technique emphasizes the differences in texture and poses the question of what is reality and what is an illusion in painting. With his use of color, shape and geometrical figures, and his unique approach to depict images, Picasso changed the direction of art for generations to come.

Final Years

Picasso's final works were a mix between the many styles he'd embraced throughout his life. He dared to make sculptures larger and his paintings more expressive and colorful. Towards the end of his career, Picasso enjoyed examining Classical works that had influenced his development over the years, and produced several series of variations of paintings of Old Master, including Rembrandt, Diego Velazquez, and Edouard Manet, the founder of modern traditions. Some of the most notable works he did, include Massacre in Korea after Goya, Las Meninas after Velazquez, and Luncheon on the Grass after Manet. Many of these pieces are still influential in the art world today; and, in fact, due to their vision and distinct creative style, are still among some of the most innovative pieces which have been introduced to the art world, even during recent years. A multitude of paintings Picasso painted during his final years are now widely accepted as the beginning of the Neo-Expressionism movement.

Influence of Pablo Picasso 

When Picasso died at age 91 in April 1973, he had become one of the most famous and successful artists throughout history. Leonardo da Vinci of the 20th Century, Picasso's true greatness and significance lie in his dual role as revolutionary and traditionalist at once. Uniquely in the 20th century he was capable of radical innovation on the one hand but on the other of continuing traditional lines. Thus in Les Demoiselles d'Avignon he vanquished the representational picture, while in Guernica he revived the genre of historical painting in a new form. He is also undeniably the most prolific genius in the history of art. His career spanned over a 78 year period, in which he created: 13,500 paintings, 100,000 prints and engravings, and 34,000 illustrations. Picasso was, and still is, seen as a magician by writers and critics, a metaphor that captures both the sense of an artist who is able to transform everything around him at a touch and a man who can also transform himself, elude us, fascinate and mesmerize us.

Just like William Shakespeare on literature, and Sigmund Freud on psychology, Picasso's impact on art is tremendous. No one has achieved the same degree of widespread fame or displayed such incredible versatility as Pablo Picasso has in art history. Picasso's free spirit, his eccentric style, and his complete disregard for what others thought of his work and creative style, made him a catalyst for artists to follow. Now known as the father of modern art, Picasso's originality touched every major artist and art movement that followed in his wake. Even as of today, his life and works continue to invite countless scholarly interpretations and attract thousands of followers around the world.
Explore Our Picasso Collection